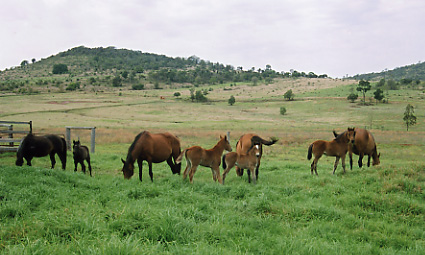 Lingi Perfection
Perfection as she was always known (Lingi Perfection only for registration purposes) was foaled in June 1950. By the Thoroughbred Sire Double Buzz and from a station mare Judy, who had won flag, bending races and other novelty events during the 1940s, but it is not clear if Judy was ever drafted. She was used extensively for mustering, was a great mount for women. also children and appeared to be of mainly thoroughbred.
When in 1948, Double Buzz (Heroic/The Buzzard) was injured during the breaking-in process, in preparation for a racing career, it was decided by Frank Glasser and his brother-in-law, Jack Cross, to breed several of their station mares to the horse. Perfection was of the very 1st foals from these matings that produced several campdraft winners for the Glassers – including Maroo who won a Warwick Gold Cup and Chinchilla Grandfather Clock, but never produced a live foal. By the time she was a six year old, Perfection was already 'drafting successfully. In 1958, Frank travelled as far north as Mt Isa, and then in 1959 he and son Max travelled to Bourke and Brewarrina in NSW. It was the Australian Championship Horse Sports, and it was here that Perfection won the Juvenile Draft Championship with Max in the saddle, and then went on to win the Australian Championship Campdraft, beating the immortal Abbey into second place. Perfection also placed 5th in the Warwick Gold Cup in 1959.Perfection as she was always known (Lingi Perfection only for registration purposes) was foaled in June 1950.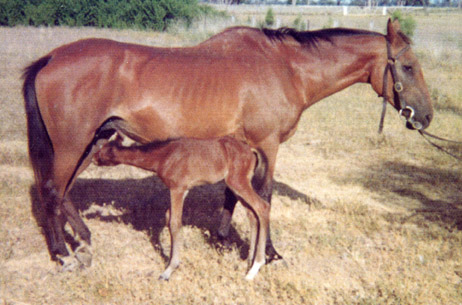 Perfection went on to win in excess of 130 campdrafts in a career that spanned the years of 1956 to the late 1960s. During that time it was not unusual for Perfection to win three drafts in the one day – the open with Frank in the saddle, the Juvenile with his daughter Beryl riding and the Ladies with the wonderful May Thompson piloting her. Perfection also won many Led Mare Competitions, usually at Campdrafts where they were judged as a type most likely to breed stock horses and it was not uncommon to see 30 or more mares line up for this event.
In 1972 Perfection at the age of 22 years presented the family with her one and only foal – Perfect – also by a Double Buzz colt. Perfect went on to have a reasonably successful campdraft career, given that it was sparodic.
When you look through the bloodlines of the mares at Glencoe these days, you will find 13 mares and fillies carrying direct bloodlines to this grand old mare. Our Sire – Glencoe Abstract carries the bloodlines of Perfection on his dams side and Abbey on the Sires side – a combination of those 1st and 2nd placegetters in Brewarrina in 1959!
Perfect – Reg No. 30601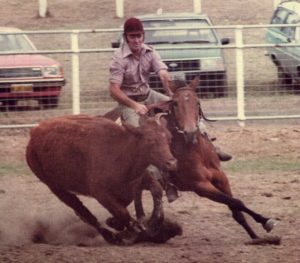 The only foal produced by the great campdraft mare Perfection, was foaled on 22/2/1972 from a 22 year old mare – perhaps she should have been named 'Coincidence!'. Broken-in as a three year old by Max Glasser, this mare won a Maiden campdraft at her first start. During her career Perfect did not get the opportunities she deserved, due to family committments with stud cattle, however she won several progressives and placed in several big Opens, including the big Toogoolawah Open in 1987. In turn Perfect has had a big influence on our breeding programme, producing 5 foals for us – 4 fillies and 1 gelding. The gelding – Durack, was sold at Dalby for $5,500 in 1997 and won 2 cut outs and placed in 4 drafts from 12 starts. Of her fillies we have Perfects Patrol – who has produced 9 foals for us – four fillies all retained; Glencoe Drovers Dream – the Dam of our resident sire Glencoe Abstract and Glencoe Wantabe, who sold for $9,000 at Dalby; Perfects Remedy a winner at led and working classes, drafted well and has had her first foal; and Perfects Portrait – her last foal , who has now produced three foals for us. All in all Perfect has played a major part in our breeding programme.
Little Jay – Reg No. 50028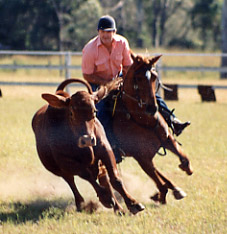 By My Abbey, was a great little mare, winning hack classes, before turning to campdrafting as a 7 year old. Jay was a great mare, winning several Progressives and placing in some really big Opens. Including the Bayer Classic at Walcha in 1988 and placing in both the Progessive and Grandfather Clock Open at Chinchilla in 1994. She then went on to produce three lovely fillies by Kirkbys Stud Remedy (all retained) and a colt – Jays Justabuzz – who sold for $7,000 at the 2002 Dalby ASH Sale. In 2002 she lost a colt foal – full brother to Justabuzz, so retired to a life of leisure. Little Jay was put to sleep in Autumn 2005 at 29 years of age and all three fillies from her are breeding very well. 
PERFECTS  PATROL (Reg. No. 131164)-Born 7/12/1986.
Known as "Patty"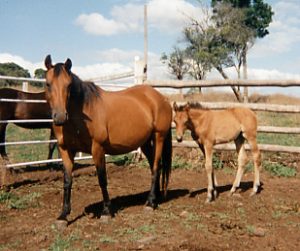 A home bred mare from the successful campdraft mare "Perfect" and by another great campdraft winner "Patrol Chief" (by Commandant).This mare has been a great breeder for us and all fillies have been retained. Her first colt foal by Kirkbys Stud Remedy, was sold to Bill Moody of Toowoomba, and her next colt foal by 4HU Volant was a victim of snakebite. The next colt-by Dr. Jekyll-Glencoe Simply Red, sold to the Walker Family of Kyabram at the 2002 ASH National Sale. Her next foal was Glencoe Cruiser, a gelding sold  at 15 months,  for the equal top price at the Toowoomba  "Select for the Future Sale" in 2004.  Patty was sold in 2009- we have kept her bloodlines going.
ESSINGTON  CAROMELLO (Reg.No.218925)-Born-6/8/1984.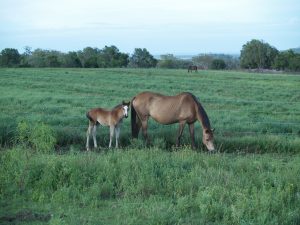 A lovely big Valentine Master Luke mare, who came to us late in life.  This lovely old mare presented us with a big buckskin gelding, who has gone on to wonderous things for his new owners, as well a lovely buckskin mare-Glencoe Shine-who sold in Albury 2004 for $6,500 as a yearling. Another gelding, Glencoe Essence, sold in Albury in 2006.  In 2007 "Cammy" presented us with an outstanding dark buckskin filly-Glencoe Issycoe- not bad at 23 years! Shine, Essence and Issycoe are all by Glencoe Abstract-Issycoe(pictured) has been retained. Cammy has been retired from foaling duties and has become our "Nanny Mare", teaching the yearlings manners!!
Cammy put to sleep 2013 at 29 years RIP
JAYS BARBIE DOLL (Reg. No. 125284)-Born 1/12/1993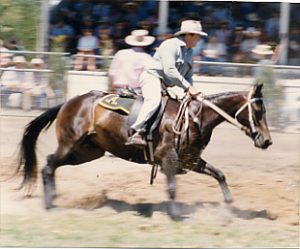 Barbie was the first of three full sisters from the show and campdraft winning mare "Little Jay", sired by "Kirkbys Stud Remedy".  Remedy was sired by Warrenbri Romeo who needs no introduction, and from the Royal Show and campdraft winning mare-Kirkbys Stud Tonic.  Barbie was shown with success as a yearling and consequently sold as 2 year old at the Dalby ASH Sale in 1995 for $4,5000-good money at the time.   We always regretted selling her, tracked her down and she returned to our ownership in December 1999. During the period Barbie was not in our ownership, we have reason to believe that she had 2 foals, and we were recently contacted by a young lass re the registering one of those progeny. Since returning to us, Barbie has been ridden by Cassandra, and given a couple of campdraft starts-she worked her cattle exceptionally well. In 2003, Barbie delivered her 1st foal for us at Glencoe, and has now delivered a live foal for us for 10 years!
1st Foal -Glencoe Nightlight-by Donrica Beacon- a black colt- sold as a yearling for $10,000 to the Bettinni Family of de Grey Station, Port Hedland, W.A.  He was a great horse for them,  in competition, work horse and sire.  Sadly, they lost Nightlight in early 2012.
2nd Foal-Glencoe Soona-by Glencoe Abstract-a bay colt-sold under saddle at 30 months, at the 2007 Charters Towers/Toomba Sale, for $5,000. Purchased by Darcy Davison and family, soona is 'drafting and Team Penning with distinction for the Davison Family. He was the heeling horse in the team that won the North Qld Team Roping Championship 2011, and we hear he has some very nice progeny on the ground.
3rd Foal-Glencoe Sheesa Doll-by Glencoe Abstract-a quality brown  filly, sold at the Toowoomba Yearling Sale in 2007 to a M/s Unsworth, whom, we believe, has been using her for pleasure and trail riding.
4th Foal-Glencoe Superstition-by Glencoe Abstract- a lovely bay/brown filly was the Top Price filly at the 2008 Toowoomba Yearling Sale, when she sold to Laurie Jones, Theodore for $8,5000.  "Super" was an outstanding type of filly, and a show career would not have been out of the question, but she went on to be a mustering horse.
5th Foal-Glencoe Irish- was the first foal sired by Glencoe Last Word.  A black colt-Irish (since gelded) sold at our 2009 Sale to the Cooper family of Millmerran.  He sired a couple of foals for them, broken in, gelded, and now 'drafting well for the family-they are stoked with him in everyway.
6th Foal-Glencoe Trickett-by Glencoe Abstract. A big volume brown mare, retained by us and now in our broodmare band.
7th  Foal-Glencoe Jays Image-by Glencoe Abstract-  "Image" is just that-a carbon copy of her grand-dam-Little Jay-even to the white mark on her forehead!!  We have kept her for sentimental reasons and she will be grown out and joined in 2013.
8th Foal –Glencoe Barbarella- by Glencoe Abstract-an attractive chestnut filly, sold at the Toowoomba Yearling Sale to the Waldron family, at Meandarra.
9th Foal-Glencoe Uniquer-by Glencoe Last Word- a stunning black filly with a unique white blaze.  An outstanding type, this filly has been sold for $9,000 to the Ashlar ASH Stud in Victoria, with a show career in mind.
10th Foal- Glencoe Two Up- by Glencoe Last Word, a lovely brown/ black colt, foaled Sept. 2012, and has grown on into a big horse.  Sold at the  Landmark Toowoomba Sale in April  2014, to Danielle Cianetti of Mt. Isa, He was shown with considerable success as a led horse, winning Supreme Led ASH from some pretty stiff competition at Mt. Isa show 2014, at just 21 months of age.  Broken in by Danielle, he is going particularly well under saddle.

11th Foal- Glencoe Zalie- by Glencoe Abstract, is a particularly attractive black filly, foaled in 2013. Sold at the 2015 "Berragoon" Sale, in January, to the Carmen Family, Holbrook, NSW , where we believe she will become part of their show team.

12th Foal- Glencoe Mastercraft- by Glencoe Craftsman, is a quality chestnut or taffy gelding.  Just not sure what colour he will be at Maturity.  One thing we do know is that he is a particularly attractive youngster, with chiselled head and perfect headset.  Will mature 14.2/14.3 hands, with a great personality and "look at me " attitude- one for the showring or pony club prospect.

13th Foal- joined to Glencoe Abstract, but will not foal until late Dec or Jan, 2016.  This will definately be her last foal!
  PERFECT PORTRAIT (Reg.No.135211)-Born-15/11/1996.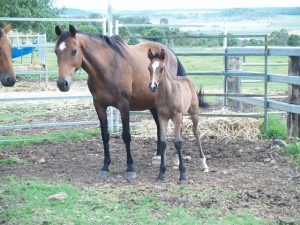 Perfects Portrait is a lovely big volume broodmare-our first foal by Quidong Absalom and the last foal from our campdraft winning mare, Perfect-who was 24 years old at the time of foaling.  Portrait is actually a ¾ sister to Glencoe Abstract, and is proving to be a valuable asset to our breeding band.
1st Foal- Glencoe Double Take-by Sinberguensa- a bay colt, sold to Victoria for $5,000 as a yearling.  He was gelded, and on sold to a M/s C Lind, but we see that his one and only registered progeny is currently in the ownership of Brett Welsh-one of the main riders in the Outback Spectacular, at the Gold Coast.  We have seen a couple of photos of Double Take in the ASH Journal, and he appears to have grown on into a lovely type.
2nd Foal- Neon Rose- by 4HU Volant.  Grown into a big bay mare, sold at our 2009 Sale, then bought back by us when she was no longer required.  Now in our broodmare band and a wonderful addition.
3rd Foal-Glencoe Last Word HSH-foaled in 2003 and was the last foal by the mighty Creswood Rivoli All Talk –twice 2nd in the Warwick Gold Cup amongst many other campdraft wins, and had a very successful show and futurity career.  Last Word is now being used by us and his 1st 3 foals grossed $19,000!!  Last Words progeny have now sold for up to $20,000, and are quite sought after in recent times.
4th Foal- Glencoe Picture-by Sinberguensa- a lovely big brown mare, sold at our 2009 Sale for $10,000, at 30 months and just broken in.  Purchased by Peter Siejka of Bathurst. "Picture" is campdrafting for Peter with a great deal of success in the south. 
5th Foal-Glencoe Wild Card- by Glencoe Black Jack (Black Jack sold by us for $10,000 has had a stellar career for his owner winning many Futurities and the Buchannon Trophy). Wild Card was an outsanding colt and sold as a yearling, at our Sale in 2009 for $8,000.  He was purchased by the Casey family of Tumut.
6th Foal-A full brother to Picture was foaled in 2010, but was lost to a mysterious infection at about 6 weeks.
7th Foal- Glencoe Rembrandt-by Kirkbys Stud Remedy- an outstanding brown colt, foaled in 2011, sold as a yearling for $10,000 to Jason and Kylie Tonnison, Western Victoria.  A big show career is planned for this youngster.
8th Foal- Glencoe Annabel- by Westons Yakka (winner of the Stallion Draft in Warwick), is an absolutely outstanding filly, born in November 2012 and the mare has just been rejoined to Yakka- we hope for another lovely filly!!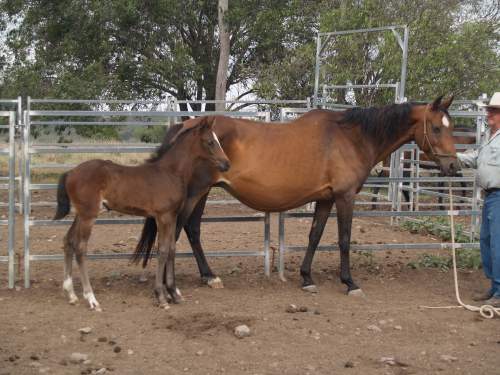 Sadly, Glencoe Annabel died in a yard accident and whilst the mare was rejoined to Westons Yakka for a 2013 foal, she aborted.

10th Foal- Glencoe Pillow Talk, foaled 2014. AI foal by the deceased sire Creswood Rivoli All Talk- a stunning black filly, full sister to our Glencoe Last Word.  Black/ brown colour, lovely elegant body with just the most pleasing nature, this filly will be shown as a yearling in 2016- keep your eyes peeled for this one- Glencoe Pillow Talk- she is a stunner.

11th Foal- Glencoe Karma- by Glencoe Craftsman. Born October 2015. A long legged, elegant filly, this one will certainly turn heads.
GLENCOE  CABACHON(Reg. No. 139736)-Born 18/12/1997
Glencoe Cabachon is from Dandilla Opal-bred by the late Eric Schafferous- and tracing back to the late Jim Sparkes Niagara Saphire.  Sired by Perfect Formula, who was by Kirkbys Stud Remedy from Perfect- Cabachon carries wonderful campdraft winning bloodlines, and she has proven to be a very worthy broodmare for us.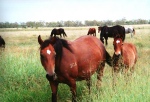 1st foal-Glencoe Bently- by Glencoe Abstract-a bay colt who matured well over his 15 hands. Sold as 2 year old, broken in and going well, in Albury, his owners were thrilled with him, but sadly lost him, to, they suspect snakebite.
2nd Foal-Glencoe Amber- by Glencoe Abstract.  A lovely bucskin filly, shown with success before being sold at our 2009 Sale to the Ashlar stud of Victoria.  Amber has proven to be very successful for them , being mostly shown by the teenager Abbey Webb, and competing in Team Penning.
3rd Foal- Glencoe Poppy- By Glencoe Abstract.  A lovely Bay filly, broken in by Lachlan, and sold at 30 months at the 2008 Charters Towers/Toomba Sale for $5,500 to Sonya Harland, Roma.  Used for stock work, we believe that Sonya is very happy with Poppy.
4th Foal-Glencoe Benz- by Glencoe Abstract-an attractive bay colt, sold for $10,000 at 10 months of age to the Stewart-Grey family, for whom he has had a very successful show career as a led horse.
5th Foal-Glencoe Saab-by Glencoe Abstract, an attractive Chestnut colt with a flaxen mane and tail, Saab had great show career, stood 2nd from 15 at the 2009 Brisbane Royal.  Sold for $9,000 at the 2011 Charters Towers/Toomba Sale to the Kenny family of Belyando crossing.
6th Foal-Glencoe Trick or Treat- by Glencoe Abstract, Treat is a big brown mare, and we have decided to retain her-she will be joined to Westons Yakka to foal in 2013-we look forward to the result of this mating.
7th Foal-Glencoe Mercedes- by Glencoe Abstract is a nice bright bay filly, has also been retained to be joined in 2013 to Glencoe Last Word.
8th Foal- Glencoe Aurion-by Glencoe Last Word is a beautiful brown filly, of outstanding quality and growth.  Born in 2011, this filly is retained, broken in January 2013 by Lachlan Glasser, Aurion has spent time in the feedlot with a patient lady, Melinda Fanning. She will get a campdraft start in 2016.  Has grown into a beautiful type with a pleasing and intelligent nature.
9th Foal- Glencoe Caddy-by Glencoe Last Word, foaled Sept this year (2012) shows tons of promise-it is evident that this combination is really producing excellent quality foals. Glencoe Caddy was sold to Terry Snow of Willinga Park Stockhorses, at the 2014 ASH National Sales at Tamworth.  She is a great favourite with them- she won Supreme Champion Hack at her 1st Show at just 30 months, and returned to the ASH Nationals 2015, placing 13th in the two year old Futurity from 109 competitors.  She has become one to be ridden by everyone, kids, beginners and the elderly- great quality mare, and wonderful temperament.
10th Foal- Glencoe Maxina- by Glencoe Last Word.  A full sister to  Glencoe Caddy, this bay filly was sold April, 2014 at just 5 months, to Libby Harriman from Muttaburra.  Libby was the loosing bidder on G. Caddy, and was determined not to miss out on this one. Shown as a led yearling at a few northern shows in 2015, she has attracted considerable attention, and taken home broad ribbons against older competition.

11th Foal- Glencoe D Max- by Glencoe Last Word.  Born in Dec, 2014, he was a big foal at birth, and has grown on into a big solid chestnut gelding with just enough bling on his face to make him attractive.  This boy will certainly make his 15 hands plus, and has a look about him that says " I am tough". The class clown, he is super intelligent, continually leading his mates into mischief- polocrosse prospect?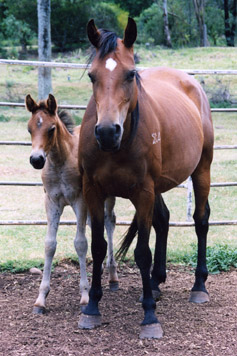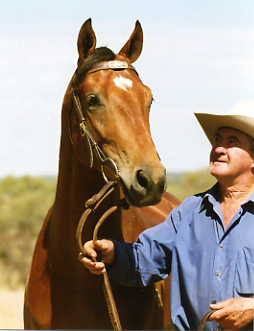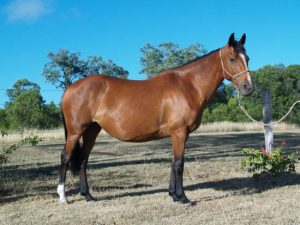 GLENCOE  NEON ROSE (Reg. No. 164679)Born-15/10/2002
Rose has matured into a big volumed broodmare-sold at our 2009 Sale for $6,000, we decided to buy her back when her new owners decided that breeding horses wasn't for them.  Rose was very happy to return home, however, it took her sometime to recover her health after living in a very confined space.  Rose had a foal prior to being sold in foal.
1st Foal-Glencoe Gypsy Rose- by Glencoe Abstract. A nice bay filly, sold for $5,250 at our 2009 Sale to Damian Campbell, Mitchell-she was a lovely filly.
2nd Foal- not registered by her new owners.
3rd Foal- Glencoe Itandabit-by Glencoe Abstract- a bay/brown colt born Sept, 2012 has the looks and attitude to make it as a definite colt prospect and definitely one too keep in mind in 2014! This colt has matured magnificiently, will be over 15 hands-mahogany bay. Will be lot 52 at the Lanmark Fountain of Youth Sale at Tamworth March 2014. Keep your eye out for him he will not disappoint.
4th Foal- This quality young colt was sold at the 2015 SAH Nationals to Alex Miles, and found his way down to the cold country at Nimmitabel.
5th Foal- Glencoe Even Better- our 1st progeny by Glencoe Craftsman, was sold at just 7 months old to former ASH Director, Amanda Day, from Esperence, WA.  A bright bay, just like his sire, he travelled over to WA in October, at just 12 months of age.

6th Foal- Glencoe Better Still- by Glencoe Craftsman, and a full brother to G. Even Better, foaled in Sept , 2015.  He is a big bold colt foal.
GLENCOE CLUE (REG NO 146028)
Born 22/11/1999
Glencoe Clue is another of our highly regarded Quidong Absalom mares. Clue had a great deal of success as both a Led and Working Stock Horse, as well as placing in several 'drafts in a short career.  Clue qualified for the Maiden Draft Series twice-Narrabri 2004 and Albury 2005.  Lachlans busy schedule with his trucking business has hampered his time in competition, so he reluctantly gave permission for Clue to join the broodmare band.
1st Foal-Glencoe Cricket-by Glencoe Last Word-is a black colt –personality plus!! sold to Ronald Glasser and family, Goondiwindi.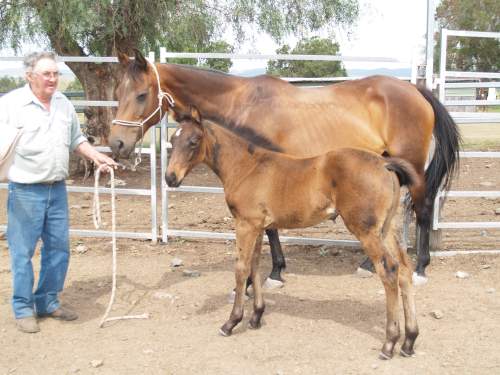 2nd Foal-Glencoe Answer-by Glencoe Last Word. An outstanding brown filly, foaled late October 2012, is like her brother all personality and a stunner to look at-keep her in mind.  Broken in by Lachlan Glasser in January, 2015, this filly is to be retained.  She has just the very best attitude, a pleasure to work with, and a fast learner.
3rd Foal- Glencoe Heads Up- by Glencoe Last Word. This young gelding has had all the ground work done, and will be broken in , Dec/ Jan 2016.  He has filled out beautifully, with a particularly strong hindquarter, with real Stockhorse appeal.  This gelding is for sale, and photos are available upon request.
Glencoe Patrice (Reg. No.187599)
Born 
21/10/2007
 Glencoe Patrice is a lovely mare from Torres Caprice and by Gilgannon Maestro, she is a complete outcross from our bloodlines..If you check out her Pedigree, you note that she traces back to Star Black Minstril and Cinders Melody on her sires lines.-both have the distinction of being  foundation ASH horses, and their progeny have had a huge influence on the ASH bloodlines-being successful in the Show Ring, Futurities, Campdrafting, Polo, Polocrosse-the list goes on-we feel especially lucky to have introduced this bloodline to Glencoe.  Each year we send out one or two mares in the hope of getting some new females bloodlines, and after numerous attempst we were thrilled to get a filly foal by G Maestro.
1st Foal-Glencoe Patricia-by Glencoe Abstract- an exciting bay/brown filly-so feminine, with great attitude-to be retained.
2nd Foal-Glencoe Caprice-by Glencoe Abstract- a lovely filly. this filly was sold at the 2014 ASH Nationals Sale to Terry Snow, Willinga Park Stockhorses, where she has grown on very well, broken in very nicely.
3rd Foal-Glencoe Paris-by Glencoe Abstract-filly. Foaled  2013, sold at 7 months to Libby Harriman from  Muttaburra, north Qld. Libby was the loosing bidder on her full sister, Glencoe Caprice at the 2014 ASH NationL Sale.  Has grown out nicely, was always going to be a nice, free moving mare. 
Glencoe Tricket-(Reg. No 192509) Born 
15/8/2008
"Trick" is a well grown bay/brown mare, not broken in or shown-going to waste, but bloodlines we could not bear to part with.  By Glencoe Abstract and from our own Jays Barbie Doll, we feel Trick will prove to be an exceeding important broodmare here at Glencoe- her 1st foal is a beauty.
1st Foal- 1st Foal- Glencoe New Tricks, by Glencoe Last Word foaled Sept, 2012, has grown into to a typical 'stockhorse type' of gelding.  Sold to Briallie Guaran, Tricks was initially used in the feedlot, now proving to be a tough, valuable member of Briallies' mustering team in north Qld.  He joins Briallies other Glencoe bred horses- G. Odd Mark and G. Amber.
2nd Foal-Glencoe All Good who is now for sale.  Foaled in 2013 and sold at the 2015 Berragoon Sale in January as a led yearling, he was purchased by the Lindley family of CJL Performance horse.  Has been broken in, and they are extremely happy with him.  He is a full brother to Briallies Glencoe New Tricks. 
3rd Foal- Glencoe Snap Chat, by Glencoe Last Word foaled in Sept 2015- the third colt foal from this mare.  Arrived a good three weeks early, but a very strong bodied boy.
Glencoe Absolution (Reg. No.164685) born 
24/8/2003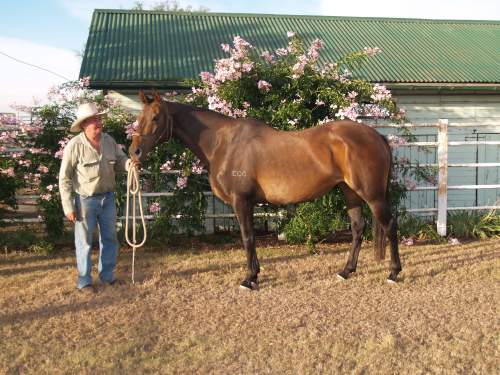 "Abby" is a beautiful big mare wasting in the paddock, so at nine years old it was decided that the broodmare paddock was the place for her.  "Abby" had an outstanding show career-winning , amongst other awards, Res. Champion Led Mare at Toowoomba Royal in 2006 fromover 100 yearling, fillies and mares.  Broken in by Lachlan, she worked her stock beautifully, so it was a pity to see her wasting.  "Abby" is by Glencoe Abstract, from a good breeding Kirkbys Stud Remedy mare-Perfects Solution.  She will be an important addition to our broodmare band.
1st Foal- Glencoe Zampattii- by Westons Yakka.  All class, this filly is a very special, quality foal, black /brown with with an attractive white marking on her face- a real eye catcher.
Glencoe Trick or Treat (Reg. No.192510) 
31/10/2008
"Treat" is a solid, well grown brown mare by Glencoe Abstract-his progeny are breeding well for ourselves and other breeders as well.-she seemed to be another good, young mare wasting in the paddock. Her full sibling have broken in beautifully and gone on well.We decided to this year breed from her.  The cross of Glencoe Last Word over the Abstract fillies is working a treat, so that is the horse we've joined her to-we look forward, with anticipation to her 2013 foal.
1st Foal- Glencoe Pretty Neat by Glencoe Last Word. Foaled October, 2015 and  as the name suggests, she has been delivered to us as a very neat and attractive foal.
Glencoe Jays Image (Reg. No 192512) 2/9/09.
"Image" is just that- the very image of her grandmother, Little Jay, who after a very successfull career in the show ring, took to campdrafting with great ability and enthusiasm. Jay placed second in the Bayer Classic Open Campdraft at Walcha in 1988, in the best campdrafting company.  She continued to win and place in several 'drafts until retired in 1992.  At her last draft start in 1992, at Chinchilla, Jay placed in three rounds of the Novice draft, got round money in all three rounds of the Grandfather Clock Open Draft, finally placing 5th.  Jay had her 1st foal 1 Dec, 1993- Jays Barbie Doll by Kirkbys Stud Remedy.  "Image" is a carbon copy of Jay, even showing the same white fleck of white on her forehead, and was sired by Glencoe Abstract.

1st Foal- Glencoe Small Talk- by Glencoe Last Word.  Foaled 3 weeks early in October 2015, this colt was small but made up for it with strength and attitude. Will make a very attractive gelding, probably being bay with lovely amount of bling.
ILLYRIA BLUE.   (Reg. No 193120). 18/10/2009
Maiden Mare.
Prepared and shown  by Glencoe Stockhorses for Ms Robyn Bultitude, Illyria is by Glencoe Last Word, and was purchased by us at the Toowoomba Yearling and Broodmare Sale in 2012.  Shown that year at the Brisbane Royal, Illyria placed 4th in a large class of Yearlings.  From the McLennans Budgeroo mare- Creswood Strife- Illyria has a strong campdraft pedigree.  She has grown into a big volume mare, has broken in beautifully, with a beautifully balanced stride- a real armchair ride.  With 5 young mares currently in work at the feedlot, it has been decided to breed this mare, as she introduces an interesting new bloodline.  She has returned a positive preg test to the exciting new young stallion, Hoaths Peter, currently competing with much promise by Marilyn McCullough.
GLENCOE MERCEDES. (Reg. No. 192511). 20/10/09
Maiden Mare.
Mercedes was the pick foal of her year drop, however she has never been what we refer to as "a good doer." We are unsure if she had eaten lantana or similar, but despite many veterinary tests, we have been unable to ascertain the problem. In the last 12 months this mare has lifted considerably. Mercedes is a full sister to Lachlan Glassers' Glencoe Aurion, Terry Snows' Glencoe Caddy and Libby Harrimans' Glencoe Maxima- all of whom are proving to be above average mares.