Resident Sires
GLENCOE ABSTRACT
Reg No:  138657
DOB:  02/01/1997
$1500 inc gst + Agistment & Vet Fees
(Chilled Semen Available within Australia & Export)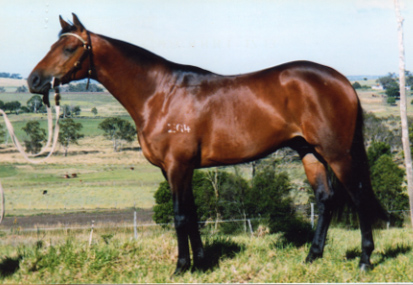 GLENCOE LAST WORD
Reg No: 168579
DOB:  11/11/2003
SOLD November 2019 to Boonara Performance Horses – Huon and Colleen Smith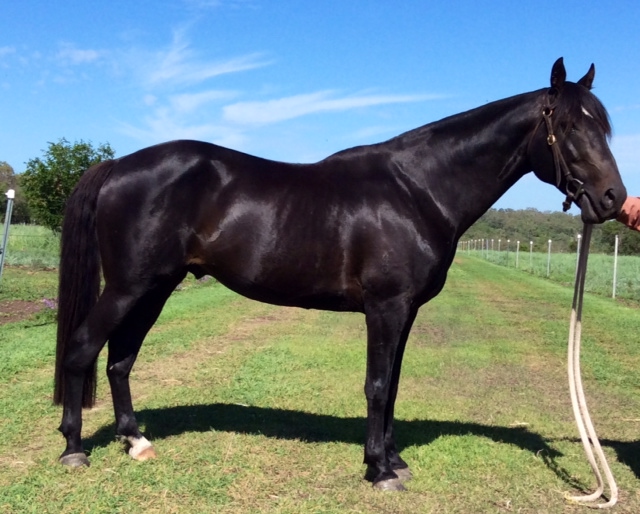 Senior Sire – GLENCOE ABSTRACT
We stand  2 stallions,GLENCOE ABSTRACT (foaled in 1997) and Junior Sire GLENCOE LAST WORD (foaled in 2003) . Abstract has now won 98 Led and Working Championships, however the 'glory' days of the showring are  over for this horse, as he takes to the campdraft arena. He has done quite a bit of mustering, finalled in a Maiden draft at Augathella, regularly scores 21's and 22 yards, with scores of 86 – and he never sees cattle from one week to the next. Abstract won a Maiden draft at Chinchilla, February 2004 and placed in several including 4th in the Progressive Killarney 2005.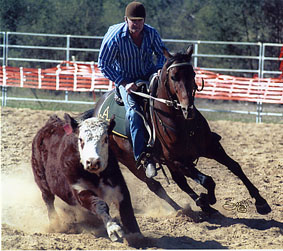 Glencoe Abstract is from a mare called Glencoe Drovers Dream, from the campdraft winning mare 'Perfect'. Unfortunately, Dream broke her stifle as a foal and was never broken in. His sire – Quidong Absalom was by Abbey from a Chan mare – and as 'Abbey Gucci' was shown by his breeder Diedrie Singh of Tumut, NSW, with a great deal of success. After winning the 3 Year old Futurity at Dubbo in 1981, Gucci was purchased by Greame Ross of Nebo, and renamed Quidong Absalom. In the north he won both campdraft and cutting before loosing an eye to infection at 6 years of age. In 1996 Absalom was purchased by Ashley and Doris McKay of Augathella, and the horse spent some time here with us at Glencoe. Consequently, we bred Abstract and three fillys by Absalom – a lucky break if ever there was one!
Abstracts fertility is outstanding, siring his first foal at 20 months, a chestnut filly – Glencoe Buzette – who sold for $4,000 at 24 months. The next three seasons he covered 30 mares each year, and all went in foal. At the 2002 Dalby ASH Sale we offered a colt by Abstract – Glencoe Jays Justabuzz (25 months old) – who sold to the Blacklock Family of 'Balootha', Julia Creek for $7,000 and in April 2003, we sold a second filly by him – Glencoe Olympia (30 months) – at the Albury ASH Sale for $7,000. This filly was purchased by Leanne O'Sullivan and her daughter of Seymour, Victoria. In December 2003, another colt – Cody Ohl- sold for $8,000, at 26 months to Jason Russ, of Derby in Western Australia. At the Select for the Future Sale at Toowoomba in April 2004, a 15 month old Gelding – Glencoe Cruiser sold to Kim Daley for $2,500 – the equal top price gelding of the sale. Glencoe Cruiser was Champion Led Gelding at the 2005 Toowoomba Royal Show. At the Albury Sale in April 2004, Glencoe Shine, a 26 month old filly sold for $6,500 to the Wilson Family of Woodend, Victoria. Since 2005 several Fillies by Abstract have sold for $6,000 to $8,500.  3yr old Colt – Glencoe Resolution sold to Gwen Macmillan for $15,000 and Glencoe Benz sold for $10,000 at 10months. Feedback on all the Abstract youngsters so far sold has been extremely positive. Charters Towers Sale has seen other breeders sell Abstract Progeny for better then average price.  In 2007, Scott Schoo, sold  Frankfield Danial, a 4 year old gelding, for $9,250, and at the recent 2009 sale, Mac and Gayle Shann paid $14,500 for the Longreach  College  bred , 4 year brown mare, El Pascol Jasmine.  Over 80 of Abstracts progeny have been sold as yearlings to date, for a respectable average of $6,000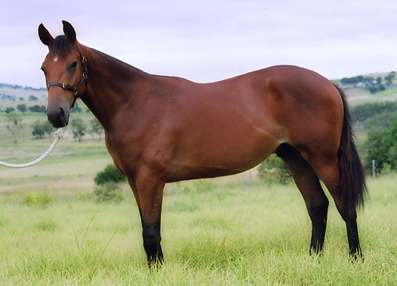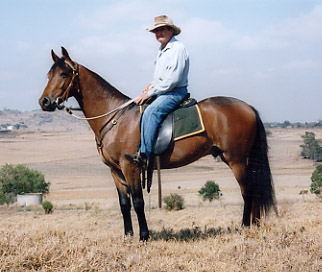 On several occasions we have collected semen from Abstract, and sending it off chilled, have had a 100% strike rate. We are now seeing other breeders showing their young stock by Abstract and it gives us a great deal of satisfaction to see them taking out ribbons, especially at Royal Shows. We have now shown Abstract progeny at 8 Toowoomba Royal Shows, and all but one have placed in their class. Their attitude is incredible, and they do like to show themselves off. At the 2004 Toowoomba Royal, progeny of Abstract helped Glencoe Stockhorses to win the most successful breeder for the third time in the last 5 years.2005 was a big year for Abstract – he was shown on 5 occasions, winning Champion Led ASH Stallion each time, as well as winning Champion ASH Working and Champion ASH Ridden Horse on several occasions. The highlight was winning Champion Led Stallion at Toowoomba Royal from a record number of Stallion/Colt nominations.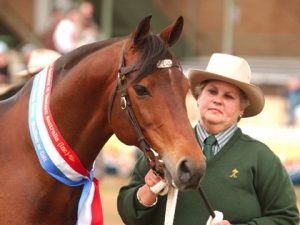 Perth Royal was a big Show with him winning Champion Led ASH Stallion and Champion Working ASH Horse, as well. The weekend of Perth Royal was a great time for Glencoe Stockhorses – Michael Glasser was showing Glencoe horses successfully at a Victorian Show, whilst Lachlan Glasser finaled in a local campdraft in Qld!! Abstract also had mares to cover in Western Australia, several mares from both NSW and Victoria visited whilst he was at Wangaratta, and he arrived home to another 20 mares + some outside mares.
In 2008 Max gave up competing and Abstract had his last run of campdrafts. Abstract continues to sire progeny with wonderful temperament-horses of quality, who compete in almost ever know form of equine pursuit. Campdrafting, dressage, polocross, pony club, shows, feedlots, mustering or just simple pleasure activities. It has been a great honour and pleasure to have bred and to own such a magnificent animal-we get untold pleasure from seeing his progeny perform so well for others.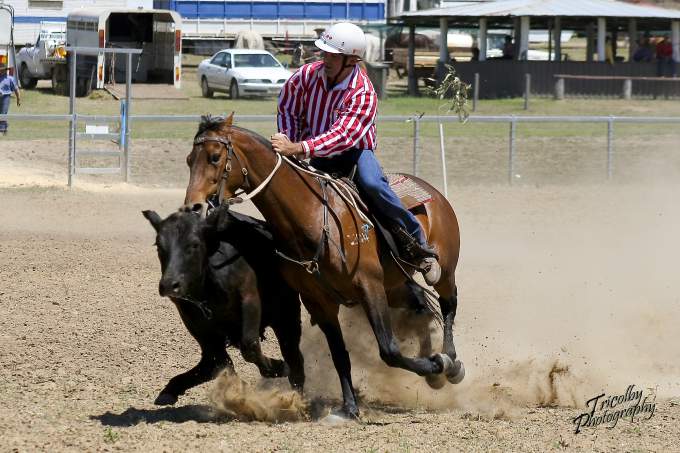 Lachlan riding Glencoe Abstract in the Open at Cooyar Camdraft, October 2008
Max Glasser posing with Christopher Ware and Wungum Citizen, 2010 Sydney Royal. This was the first occasion on which a Gelding had been sashed Champion Working Horse at a Sydney Royal, and a great reflection on Christopher-only 16 years old at the time-and Citizen just 5 years of age. Christopher had trained the horse to this level entirely by himself. Citizen is ofcoarse sired by Glencoe Abstract.

 Chinchilla Show, 2015, Max and Craftsman, by Glencoe Abstract, won Supreme Led ASH Exhibit.

 Mitchell stark playing on Kim Starks Tarcombe Patience, also by Glencoe Abstract.

 Glencoe Craftsman with the new love of his life, Linda Patullo, taken at his new home in August. Purchased by Terry Snow, Craftsman has relocated to the very beautiful Willinga Park, where he has continued on his winning way for them.
GLENCOE CRAFTSMAN
(Reg. No. 196283). Born 22/10/2010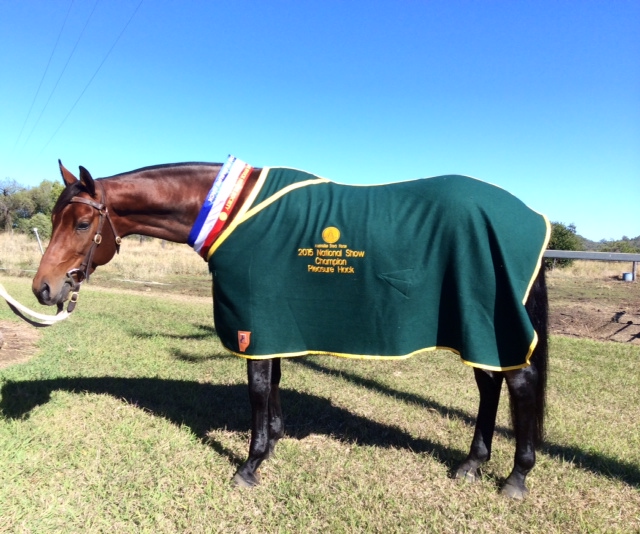 Glencoe Craftsman had a wonderful success in the Showring, before going to Jim and Kim Daley for the 2014 & 2015 Futurities, where he was successful on 5 occasions and placed second from 6 starts under Jim's guidance.  The icing on the cake was winning the Pleasure Hack from 210 nominations at the 2015 Australian Stock Horse Nationals, once again with Jim Daley in the saddle.
In August 2015, Glencoe Craftsman was sold to Terry Snow, owner of the wonderful property, Wilinga Park, where he has continued to be shown and join their band of sires. We have retained the right to breed a number of mares to him each season, and look forward to doing so, as the progeny he has left behind here at Glencoe, are outstanding.

 Glencoe Craftsmans' baby brother has just arrived.  Photo at a few hours old with his mum,Vet School Melody.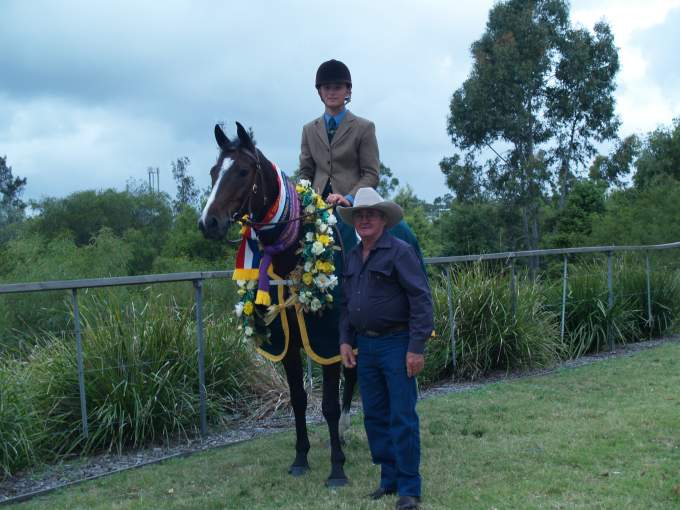 Wungum Citizen, Chris and Max
Glencoe Saab
Sired by Glencoe Abstract from Glencoe Cabachon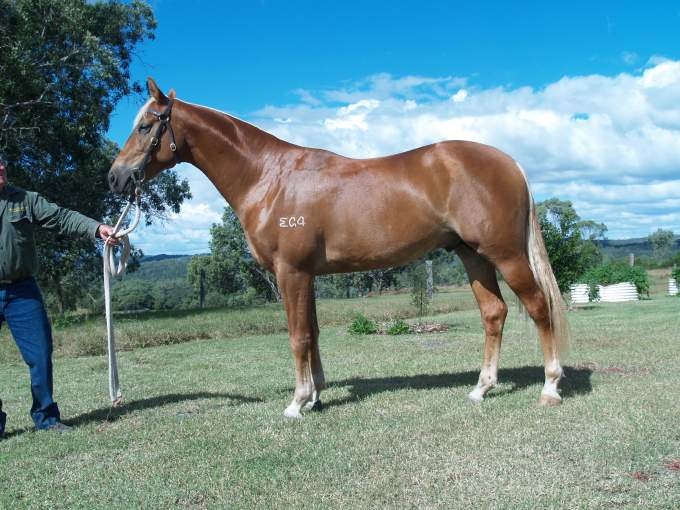 Sold Toomba Sale- Charters Towers 2011 for $9000 to Clayton Kenny,  Belyando Junction.
Sheady Showman – Owned by Tracie Wells.
CHAMPION ASH, CHAMPION ANSA, SUPREME LARGE BREED AND GRAND CHAMPION YOUNGSTOCK
 at Cootamundra Youngstock Show, NSW.
By Glencoe Abstract and out of Jays Slick Chick also bred by the Glasser Family.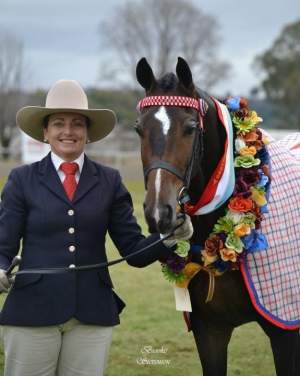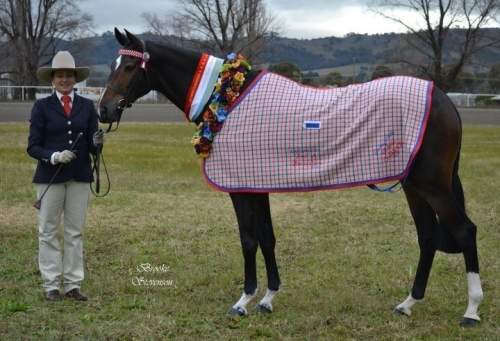 Christopher Ware is having continuing success with his stallion-Wungum Citcom-now a 4 year old, and a full brother Wungum  Citizen, who went on to great things.  They are just 2 of the several Glencoe Abstract progeny bred and campaigned by the Ware family with success.
Glencoe Uptown Girl has returned to competition, with a bagfull of wins, after several years off. Purchased by the Guaran family as a yearling filly, at the 2005 ASHS National Sale at Albury, "Uppity" was broken in, and shown lightly, working in feedlots etc.  Slight lameness led Tania Guaran to rest the mare and breed a foal-she has produced a very attractive filly.  This year-now aged 11 years, Tania decided to bring her back into work, no lameness visible, so on into the showring.  This has resulted in several Champion & Res. Champion Led Mare sashes, as well as winning and placing in Ridden,Pleasure and Working classes-Congrats,Tania-we are so proud of you both!!
Abbey Webb has just recently taken on Glencoe Future Direction, a 9 year old, recently gelded, and has him started under saddle.  A lovely horse, with a great nature, we are sure he is going to be a much happier boy out in the real world, rather then looking over the fence for one or two mares each year!!!
Meanwhile, the Speedy girls from down St.George way have begun playing polocrosse on their aunts' 5 year old mare-Tarcombe Patience.  As both these young ladies are playing at National level, we await the development of this mare with anticipation. They are very impressed with her progress at this time.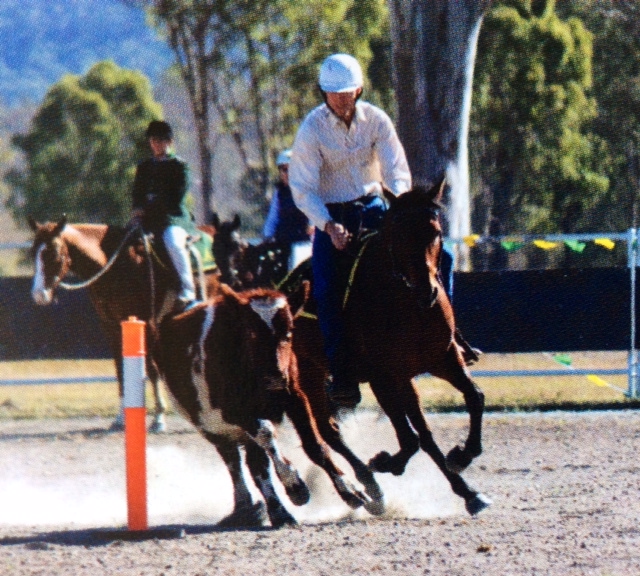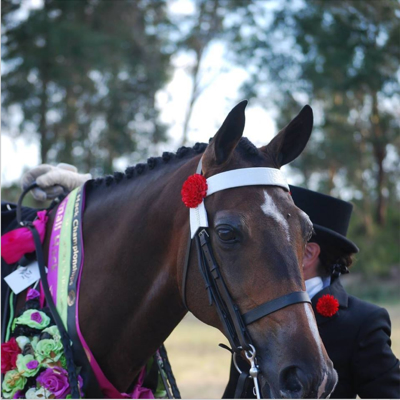 Tracie Wells and Showman (by Glencoe Abstract) February 2015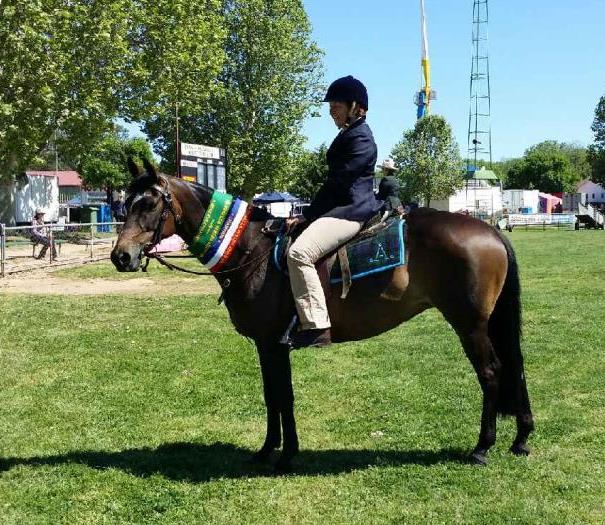 Tania Guarin and 11Year Old Glencoe Uptown Girl. October 2014
by Glencoe Abstract winners at many Ag Shows 2014

 Tracie Wells, Young, NSW, and Showman, (by Glencoe Abstract) Sydney Royal 2015.

Glencoe Craftsman and Jim Daley, winning the 4 Year old Futurity at the West Morton Branch Futurity in April, 2015.  They also won the the Eastern Downs Branch 4Year old Futurity, making it 2 wins from 3 Furturity starts for 2015.

A very tired group, photo taken at 11.30 pm at the 2015 ASH Nationals!
Glencoe Craftsman, ridden by Jim Daley, posed with the Judge, Kelli Handford, after winning the Champion Pleasure Hack.  It was very cold, and it had been a very long day for everyone!

 A very tired Glencoe Craftsman, after arriving home from the 2015 ASH Nationals, after being a ribbon winner in all of his classes, and eventually winning Champion Pleasure Hack from a catalogued 210 nominations.  He also placed 10th overall in the 4 Year old Futurity.

 Another of Glencoe Abstracts progeny, being ridden by Melinda Fanning-

 Another Glencoe Abstract progeny, Glencoe Izzyco and Lachlan Glasser at Glenmorgan 'draft.
 GLENCOE LAST WORD
GLENCOE   LAST WORD- (Reg. No. – 168579) Born 11/11/2003.
What a surprise at "Glencoe" on 11th November, 2003, when the mare –Perfects Portrait, presented us with a perfect foal, just 31 days early!!  Surprised at first and delighted that he was obviously so healthy but with a mouse like hair covering, we soon realized that 31 days early can have complications.  We so wanted this foal-especially a colt foal- as he was the very, very last foal by the grand old campdrafter and sire, Creswood Rivoli All Talk.  We had so often talked about sending a mare to this horse, eventually we had done so, and were then saddened to hear that he had passed on before our foal had arrived- that this was his last PTIF mare.  Whilst "Last Word" was suckling well, and sleeping plenty, we soon noticed that his legs were beginning to buckle as he stacked the weight on- as his mum is a very good milker.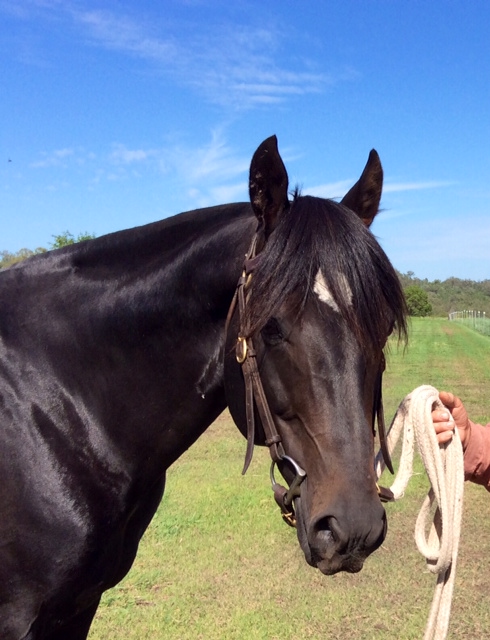 Despite assurances from our Vet, Dr. Max Wilson, that what we were seeing with the legs was because of his early arrival-not genetic- we seriously thought of having him put to sleep.  Fortunately, we persevered, stabling for so long, and then so much time in the paddock.  "Last Word" has grown into a lovely type of stockhorse, standing a good 15 hands plus, of solid muscle, with an outstanding temperament, and so very clever when showing off in the paddock.  He just loves to gallop flat out, putting in clever stops and about turns, just before he meets with the fence!!  Those breeders who were privileged to know "Rivoli Ray", look at "Last Word" and comment that his grand-sire will not be forgotten whilst this coal black horse is around.
Foaled in 2003, we decided that 2006 was time to try him with selected mares.  We have not been disappointed in the foals bred each year since then- and they all have great legs!!!  All have handled, tied up, taught to lead etc. with the minimum of fuss, have their dads' great attitude and quality-simply great stockhorse types.  This is what we, at Glencoe, are about-breeding type, quality and attitude-good, honest, working stockhorses of the future.  At our Sale-March 2009-we offered our first two fillies by Last Word-both yearlings.  Glencoe Posh-aged 16 months-sold for $12,250 to Shane and Janet Everingham, Helensburg, NSW-our top priced yearling. "Posh" has been earmarked for a show career  and futurities.  His other filly offered-Liv Tyler-sold to Mark and Narelle Bettinni of de Grey Station, West. Aust for $7,250 also at 16 months.  "Liv " arrived at her new home in May, and we already have email photos of her under saddle, being quietly ridden through cattle!!  An average of $9,750 for his 1st two yearling progeny sold  was not a bad start.  We also offered "Last Word " at this sale-were offered $20,000 after the auction-however so many visitors to the Sale were impressed with his progeny, and showed interest in breeding to him, we decided he should remain with us.
Glencoe Posh has been on sold for $20 000 to Terry Snow of Canberra, and in 2013, was sashed Champion Led Mare at the ASH Nationals at Tamworth. Posh is also working her cattle extremely well.
At the 2013 Sydney Royal, 16 year old Abbey Webb and Glencoe Chick Chat debuted at their 1st Royal, taking home a 2nd placing in the Led Mare class, 2 x 6th and a 7th in working classes. Abbey and Chick Chat have had numerous big wins in both junior and Open Led and Working competitions in Victoria. Abbey bought Chick Chat as a yearling in 2009 and has been responsible for both her breaking and training.
Another youngster by Last Word-sold to Marion Webb, Victoria for $9500 as a yearling-is Glencoe Uniquer. A lovely coal black filly with a unique white face marking-uniquer was unbeaten on several occasions when show as a yearling at Victorian shows 2013.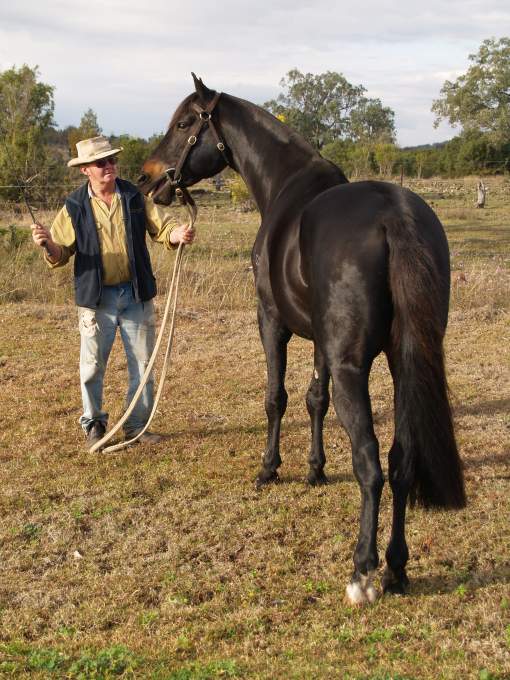 Glencoe Last Word at 6 years of age-2009
Posh- Sydney 2010 (Sire : Glencoe Last Word.  Dam: Glencoe Trendsetter)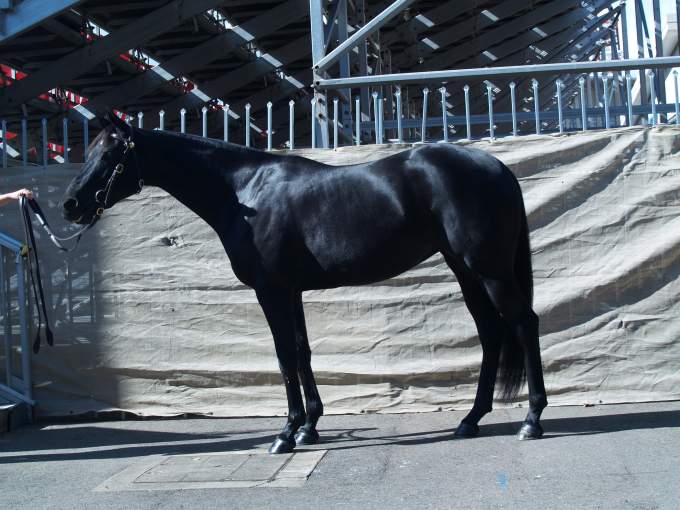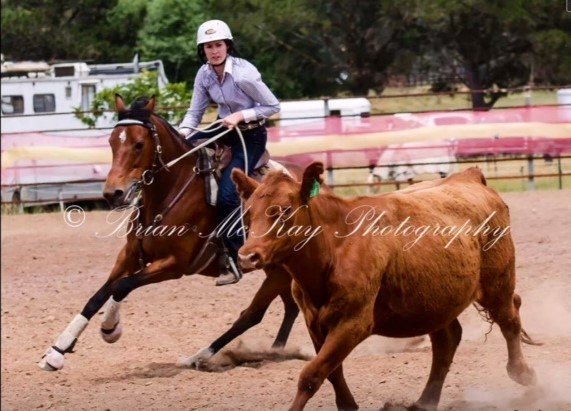 Abbey Webb and Glencoe Chick Chat winning the Maiden Draft at Merrijig, late 2014.
Winning Progeny of Last Word.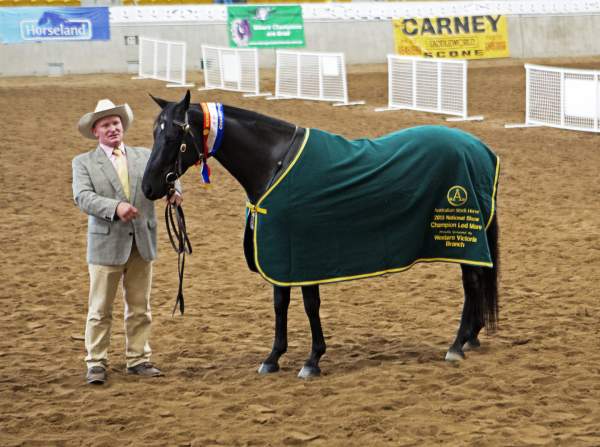 Glencoe Posh Champion Led Mare-ASH Nationals 2013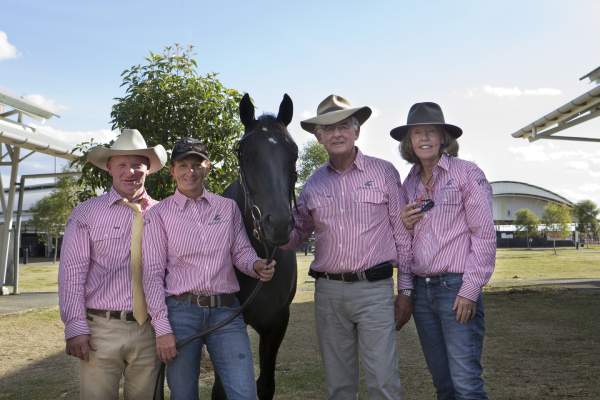 Posh and her minders.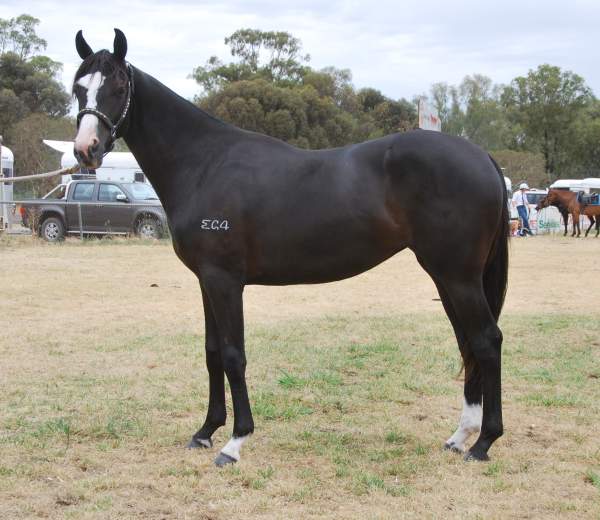 Glencoe Uniquer at 15 months.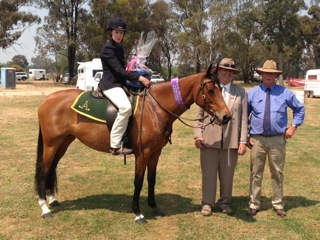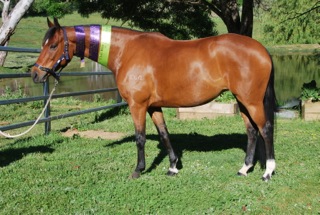 Abbey and Chick Chat winning it all at Henty 2013.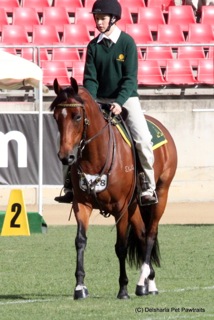 Abbey and Chick Chat at Sydney Royal 2013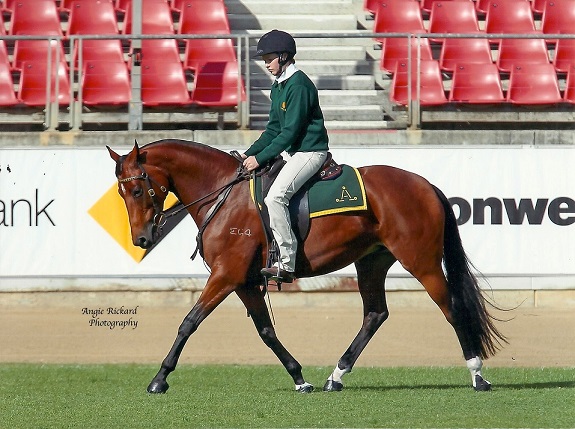 At the 2014 Sydney Royal, Abbey Webb and Glencoe Chick Chat continued their success with several ribbons-the highlights being 2nd in the Led Mare class and placing 3rd in the Junior Campdraft. After several Ag Shows in Victoria and southern NSW, this combination has been unbeaten for the Champion ASH Working horse sash.  Chick Chat either wins or places well up in her led class, and usually takes out Champion Ridden ASH. Abbey and Chitty also took out the High Point Horse at the Riverina Branch Show in September. They went on the next day day to take all before them at the Henty Show, just as they had done in 2013!!
  Glencoe Uniquer travelled south in January 2013, to join the Webb stable.  At just 16 months, she was unbeaten when shown as a yearling, has broken in well, and getting her share of the ribbons, including being Reserve Champion Working horse to her stable mate, Glencoe Chick Chat at the 2014 Benalla Show.
Glencoe Chick Chat has continued on her winning ways.  In late 2014, she and Abby won the Maiden Draft at Merryjig, proving that they are not just pretty faces.  At the 2015 ASH Nationals they competed for the first time and took home a raft of ribbons, including Best Presented from 109 nominations, Reserve Champion Led Mare, and scored an unbelievable 98/100 points in the ASHLA, WINNING overall and and Highest placed Novice- an outstanding performance.

Abbey Webb and her mare Glencoe Chick Chat.

Abbey and Chick Chat

In South Australia, Katrina Copping and her mare, Ellora Dannan, also by Glencoe Last Word, having been competing with considerable success.

Meanwhile, at de Grey Station, near Port Hedland, Narelle Bettini is pictured left on her mare by Glencoe Last Word.  Narelle says she loves this mare, and obviously is capable of a good, hard days work in the mustering camp.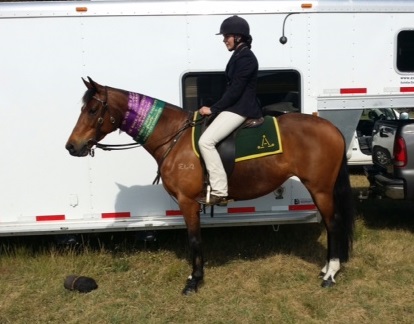 Abbey and ChickChat at The Rock Show-2014, repeat performance!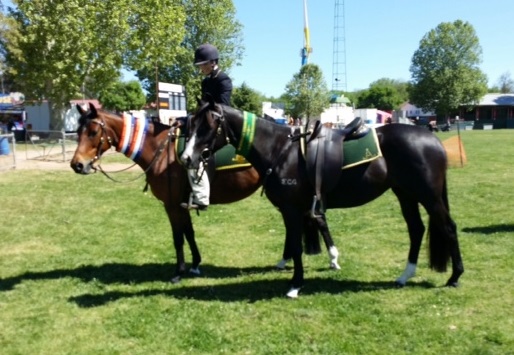 Abbey rode ChickChat and Uniquer for Champion and Reserve Champion Working ASH.
Benalla Show 2014